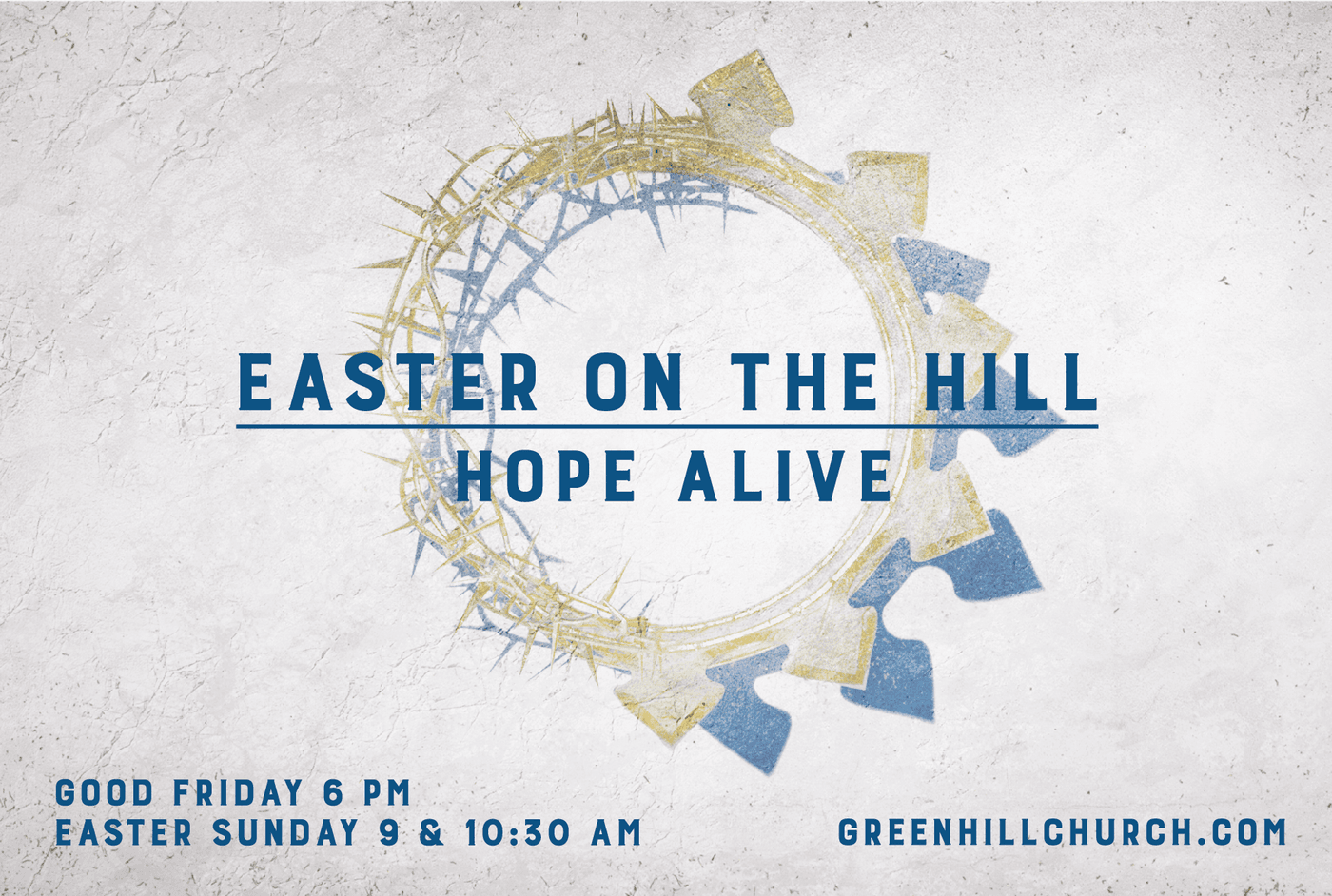 Easter on the Hill is what we call Easter weekend here at Green Hill Church. It begins on Good Friday with The Easter Experience for preschool and young elementary aged kids and their families to walk through several stations where the Easter story will be told through hands-on activities.
Later that evening at 6 pm we invite you to join us for our Good Friday service. We will take time to remember the love that Jesus showed us by taking our place in death and suffering on the cross.
Our weekend concludes with an Easter celebration service on Sunday morning at 9 & 10:30 am. Join us as we celebrate the freedom we have in the resurrection of Jesus Christ! We will worship, we will pray, and we will celebrate the victory we have in Jesus!
Good Friday – April 7th at 6:00 pm
Easter Sunday – April 9th at 9:00 am & 10:30 am
NO LIFEGROUPS
Programming on Good Friday and Easter for kids 4 & Under
The Easter Experience for Kids
If you are a family with preschool and elementary aged children, then The Easter Experience is for you!
This Good Friday, experience the story of Christ's crucifixion and resurrection by visiting a series of stations designed to make the Easter story come to life. At each station, the family will read some scripture together and complete a simple activity. It should take your family about an hour to an hour and a half to complete.
Reservations are required to allow for families to move through the ten stations independently. Easter Experience Leaders will be available for assistance as needed. Click your preferred date to RSVP.
Good Friday Service
Service at 6:00 pm
Programming for Kids 4 & Under
"He himself bore our sins in his body on the tree; so that, having died to sins, we might live for righteousness. By his wounds you have been healed."
1 Peter 2:24
Easter Sunday Services
Services at 9:00 & 10:30 am
Programming for Kids 4 & Under
6 "He is not here, but he has risen! Remember how he spoke to you when he was still in Galilee, 7 saying, 'It is necessary that the Son of Man be betrayed into the hands of sinful men, be crucified, and rise on the third day'?"
Luke 24:6-7