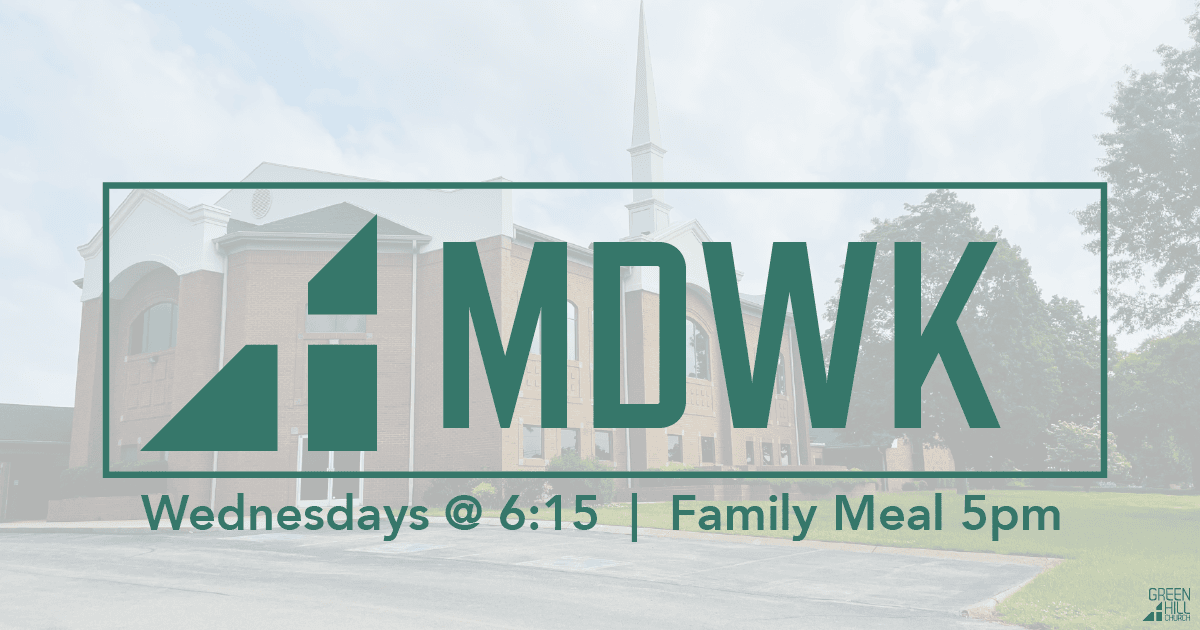 MidWeek resumes October 18th!
MidWeek Meal 5:00-6:00 pm
Leave dinner to us and join us for the MidWeek Meal. Cost $7 per person, $25 family max.
Kids 6:15 pm
We have Grow classes for our kids ministry! Our kids start off in small groups learning their lesson for that night, where it is taught on a level that they can comprehend and understand. They then come together as a large group and have a discussion time at the end of the hour.
Students 6:15 pm
Our student worship for 6th-12th grade that we call BaseCamp also meets on Wednesday nights at 6:15pm. BaseCamp is a worship service specifically for our middle school and high school students where they will sing and hear from the Word of God.
Adults 6:15 pm
Dive deep in our Grow classes on Wednesday nights at MidWeek. For adults we offer several different class options at 6-8 weeks in length on topics such as marriage, theology, missions, and expository studies as well. See the list below for this quarter's classes.
Adult MidWeek Classes:
Everyday Theology by Mary Wiley
Led by Jeremy Jenkins
Theology is the study of God, what He has done, is doing, and will do in the world. And it's not just for those with formal education or those who work at your church. It's for you in your everyday moments, questions, and decisions. It's for the big and little, the exciting and mundane. Our theology is the basis of our faith and touches every part of our existence.
In this 8-session study, explore the essential doctrines of Scripture, God, Jesus, the Holy Spirit, humanity, salvation, the church, and the end times to know God more deeply through these foundational truths.
Cost $15 for book paid at first class.
When You Pray by Kelly Minter, Jackie Hill Perry, Jen Wilkin, Jennifer Rothschild, Jada Edwards, Kristi McLelland
Led by Deborah Crouch
This is a study of six different prayers in the Bible, each taught by a different Lifeway Bible teacher, such as K. Minter, J. Wilkin, J. Rothchild, and K. McLelland. Prayer is a gift for sure but can be a challenge as well. Sometimes our words fail us and other times it's our heart! This study of prayers in the Bible will help inspire your own conversations with God by strengthening your faith walk and uniting your heart with Jesus.
Cost $18 includes study book, video access, and prayer journal. Paid at first class.
BetterMan Core Bible Study
led by Dan Dyer
Core is an 11 week study on the essentials of biblical manhood. Each week, you'll learn how to be a better man through live or video teaching and build relationships with other men through group discussions.
Cost $10 for study guide paid at first class.
Gospel of John
led by Pastor Rickey Baxley
This verse-by-verse study through the Gospel of John is led by Pastor Rickey Baxley. While this is an ongoing study, it will be easy for new participants to jump in to the group.
No cost for the study. Bring your Bible or device with a Bible app.