Upcoming Student Events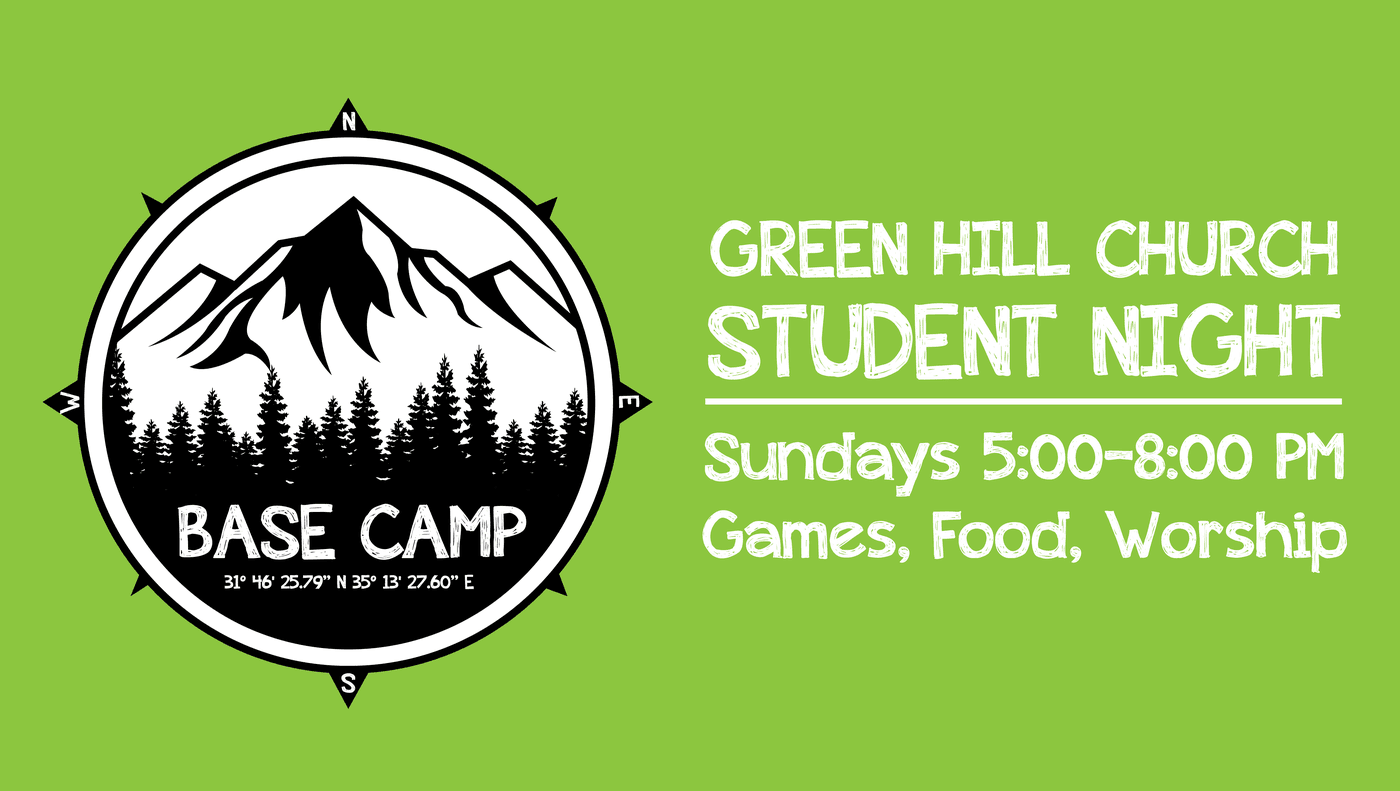 No Student Base Camp on Sunday, March 7, 2021. Enjoy your Spring Break!
1. On-campus Student Base Camp will meet on Sunday Night from 5:00pm-8:00 pm. We will be using the same protocols as Sunday morning and encouraging students to social distance.
2. Sunday worship 9:00 am and 10:30 am in person in the sanctuary OR online at greenhillchurch.com, facebook.com/greenhillchurch, or YouTube.com/greenhillchurch.
3. Our LifeGroups meet in person on Sunday Mornings. If you are a student 6th-12th grade and would like to connect to a LifeGroup, email Casey Colter, our Next Gen Pastor at casey@greenhillchurch.com
4. Stay informed: Text 81010 to @ccolter, connect with @greenhillstudents on Instagram, or email info@greenhillchurch.com to be added to the student weekly e-newsletter.
Questions? Email Next Gen Pastor Casey Colter at casey@greenhillchurch.com

Student LifeGroups
What are Student LifeGroups? Students 6th-12th Grades are age and gender separated. In these Groups students and adult leaders dive into God's Word and bring application to everyday life. Our LifeGroups meet on campus on Sunday mornings.
What curriculum is used in Student LifeGroups? Currently, our student ministry is using the The Gospel Project curriculum published by LifeWay Christian Resources. This curriculum, written specifically for students, walks through books of the Bible and brings application to everyday life.
Students may contact Next Gen Pastor Casey Colter at casey@greenhillchurch.com to get connected to a LifeGroup.
Base Camp Student Worship
Base Camp is a service geared specifically for students in grades 6-12. Students have recreational time, fellowship time, and end the evening with a worship service where they will hear a relevant message from God's Word.
Base Camp Student Worship takes place on campus every Sunday night from 5:00 pm-8:00 pm.
Parents and Guardians
Are you a parent of a student (6th-12th grade) and interested in signing up for a weekly student ministry e-newsletter? This e-newsletter will come straight to your email box and have the latest information about Sunday mornings, Base Camp, events, and more!
Email Next Gen Pastor Casey Colter at casey@greenhillchurch.com for more information and to sign up for email updates.
Student Forms